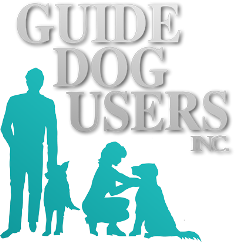 Welcome
GDUI Responds to the Tragic Violence and Loss of Life in Orlando, June 12, 2016
"Dear GDUI Members and Friends,
We in GDUI want to share our profound sadness, and shock and sympathy with all of our members and friends in the Orlando, FL and LGBT communities, especially our brothers and sisters in the ACB BPI affiliate. Your losses are our losses, your sadness, is our sadness as well. We are all one in grief, and in love for one another."
Sincerely,
Penny Reeder, President
Guide Dog Users, Inc.
Guide Dog Users Inc., (GDUI), is the leading consumer-driven organization of guide dog handlers in the world. GDUI is an affiliate of the American Council of the Blind (ACB) and is a founding member of the Coalition of Assistance Dog Organizations (CADO).
 We strive to promote civil rights and enhance the quality of life for working guide dog teams. Drawing on the experiences and varied knowledge of its members, GDUI provides peer support, advocacy and information to guide dog users everywhere. In addition, GDUI works with public entities, private businesses and individuals to ensure that guide dog users enjoy the same rights to travel, employment, housing, and participation in all aspects of life that people without disabilities enjoy.
 The collective knowledge and experience of GDUI's members drives constructive dialogue breaking down barriers of ignorance, opening doors for those of us men and women who live and work proudly and independently partnered with a well-trained guide dog.
 The information and helpful resources shared here on GuideDogUsersInc.org are provided as a service to all who are interested in the guide dog and handler partnership. We invite you to explore our website and to become a part of GDUI!
Latest News
Older Entries »